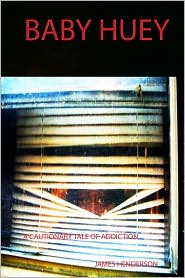 Now that I have had a nook for a while, it has opened my eyes even further to the fact that there are so many good writers out there, who because of the archaic agent / publishing system, would never have had their novels read by anyone. A textbook example of this is my latest find which I discovered over at
Lynn O'Dell's Red Adept Review
site.
The author is James Henderson, The novel is "Baby Huey: A Cautionary Tale of Addiction". James couldn't find a publisher, decided to go it on his own, and much to my benefit has it out as an e-book for only .99 cents. It just came out in early February and is now at # 10 in the fiction /drama rankings in the kindle store. How's that for a big Fuck You!
Baby Huey is everything I love in a novel so far (and I'm just getting to the crack part, so that's saying something): well written, excellent voice and characters, and cleverly funny. It is one of those "can't put it down" type of novels.
So, if you have a spare .99 cents, you 100 % cannot go wrong. The link to James' very nice and inspirational website, where you can find out more about him is
HERE
and the novel is available in print, but you can get it on Amazon and B&N in ebook.